"Osprey"
---
"Osprey"
£60.00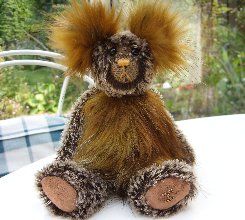 We are delighted to introduce you to Osprey, a 7" bear in a slightly new style. He is one of the first bears in our new Birds Collection and he is made of gorgeous dark brown, silver tipped slightly gelled German mohair. The fur looks like it will be quite spiky but in fact it is soft and thick with a really nice feel. We have combined this fur with long, very dense plush fur for his tummy and ears in gorgeous shades of fox red with a feather finish and grey and blonde highlights. The two look great together and give Osprey great ears. His pads and paws are tan cashmere, he has a gold stitched nose and shiny black German glass eyes.
In style, these 7" bears have neat little feet, smaller paw pads and long curved arms. Osprey is very heavily filled with steel shot and steel balls so he sits really well. I hope you like him, he costs £60 plus postage.
Please note that as with all our bears, Osprey is not a toy and is not suitable for children.