"Fernilee"
---
"Fernilee"
£65.00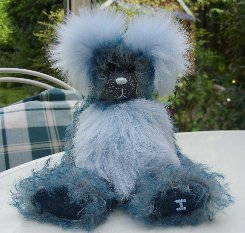 This adorable boy is Fernilee, he is 8" tall and is made of dark grey backed, pale grey curly, dense, soft Schulte mohair tipped in deep turquoise blue. The effect of the curls being pale grey at the back and turquoise at the tips works really well and makes Fernilee very striking. We have combined this for his tummy and ears with very pale blue plush fur, soft, very dense and very silky in texture it is almost impossible to resist stroking it! Also the length of this fur gives Fernilee those great ears that so many of you love.
His pads and paws are deep turquoise ultrasuede, he has a pale blue stitched nose and shiny black German glass eyes. We have filled him with steel shot and plastic pellets so he does have some weight for his size, I hope you like him, he has a really sweet, rather anxious little face.
Fernilee costs £65 plus postage.
Please note that as with all our bears, Fernilee is not toy and is not suitable for children.