"Lynton"
---
"Lynton"
£42.00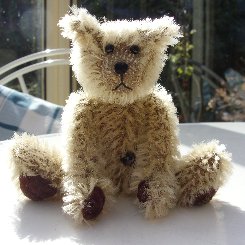 Named after a place in the Exmoor National Park this is Lynton, and he is part of our National Parks Collection. He is 4 1/2" tall and is a style of bear that we make in larger sizes but rarely in this small size. He is made of brown backed, dark gold mohair with a straight pile. The fur looks quite spiky but is soft and silky to the touch. He has dark brown textured Sassy fabric pads and paws, a black stitched nose and shiny black German glass eyes. With his steel shot filling, Lynton is nice and heavy and sits with his paws between his feet. He has long curved arms, short legs with round footpads and quite a long snout with his ears flat on the top of his head. I do hope that you like him, he is rather sweet. Lynton costs £42 plus postage.
Please note that as with all our bears, L

ynton is not a toy and is not suitable for children.