"Upton"
---
"Upton"
£39.00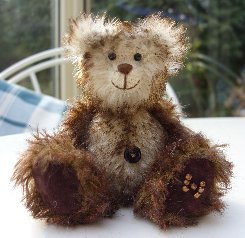 Meet Upton, a lovely 3 1/2" bear made of soft, silky, cream backed brown tipped Schulte mohair for his head

,

body and ears, whilst his arms and legs are made of dark gold backed multi brown South African mohair with a hint of copper. This fur has a longer pile length and a tufted texture, it looks great with the paler fur. His pads and paws are deep mahogony textured Sassy fabric, he has a dark brown stitched nose and a wide smile. Upton is named after a place in the Norfolk Broads National Park, he is steel shot filled for weight and as you can see, he is very sweet indeed. Upton costs £39 plus postage, I do hope that you like him.
Please note that as with

all our bears, Upton is not a toy and is not suitable for children.