"Beacon"
---
"Beacon"
£94.50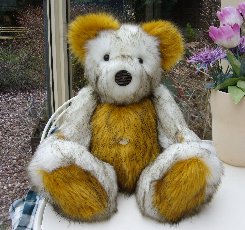 Named after the Brecon Beacons, Beacon is part of our new National Parks Collection and he is gorgeous! At 21" tall he is a big bear and he is made of two fantastic colours of plush fur. His head, arms and legs are made of white plush tipped in dark brown, the fur is very thick and silky soft. His ears, pads, paws and body are made of deep yellow plush tipped in black. This fur is slightly longer than the white fur, it is also very dense and soft with a feathery finish and the two colours look great together. Beacon has a big brown button nose, shiny black German glass eyes and a pretty cream and brown belly button. He has bells in his ears and is filled with plastic pellets and polyester stuffing.
For those of you who like big bears, Beacon is a treat. He is a real armful of cuddles, I do hope you like him, he costs just £99 including 1st class UK postage.
Please note that as with all our bears, Beacon is not a toy and is not suitable for children.