"Estella"
---
"Estella"
£50.00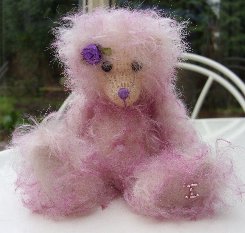 For those of you who like to add the occasional little girl to your collection, Estella could be the bear for you! She is made of cream backed, frothy pink tipped Schulte mohair, the fur is dense and very soft with a gorgeous feel. We have given Estella very pale pink cashmere pads and paws, velvety soft and beautifully luxurious. Her nose is stitched in pale lilac thread which tones in with the lilac ribbon flower over her right ear, she has shiny black German glass eyes and a candy pink belly button.
In style, Estella has long slim arms, short legs with tapered footpads and her head is set quite low on her shoulders which give her a shy, demure expression. She has a heart shaped face and a sweet smile. Part of our Heavenly Collection, her name means "star-like" I do hope you like her. She costs £50 plus postage.
Please note that as with all our bears, Estella is not a toy and is not suitable for children.