"Calipso"
---
"Calipso"
£80.50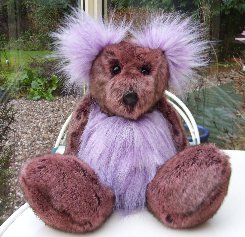 We are delighted to introduce you to Calipso, the first bear in our new 16" style of bear made of plush fur. He is made of dark pink plush fur tipped in dark grey, the fur is really, really soft and very dense. For his tummy and ears we have used longer feathery pale lilac plush which has a gorgeous texture and that length which gives him great ears! In style, Calipso has big rounded feet and long curved arms, he has a button nose and big shiny black German glass eyes. We have firmly filled him with polyester and he has plastic pellets in his tummy to give him some weight.
We are really pleased with this new style, he is a big cuddly bear and I do hope you like him too. Calipso costs £85.00 including UK postage charges.
Please note that as with all our bears, Calipso is not toy and is not suitable for children.