"Wilf Braces"
---
"Wilf Braces"
£39.00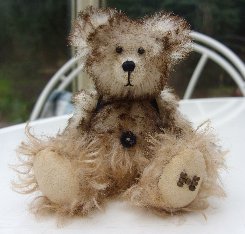 We are delighted to introduce you to Wilf Braces, a gorgeous 3 1/2" Braces Boy made of gorgeous cream backed, short, soft and silky brown tipped Schulte mohair. His trousers are made of longer, sparse and scruffy wheat gold South African mohair. His pads are cream ultrasuede and his paws are dark brown ultrasuede, he has black ribbon braces, a black stitched nose and shiny black English glass eyes. We have filled him with steel shot to make him nice and heavy even though he is only little.
As you can see, Wilf Braces is a very sweet little bear and I do hope that you like him. He costs £39 plus postage.
Please note that as with all our bears, Wilf Braces is not a toy and is not suitable for children.