"Ulysses"
---
"Ulysses"
£70.00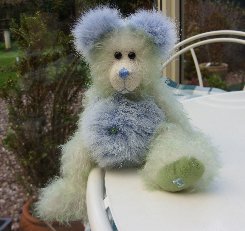 We would like to introduce you to Ulysses, a gorgeous 8" bear made in pretty pastel colours. He is part of our new Spacecraft Collection and is named after a craft launched in 1990. He is made of white backed, green tipped, curly, soft Schulte mohair, the texture is light and fluffy, like candyfloss! For his tummy and ears we have used baby blue plush fur, soft and very dense and the two look great together.
Ulysses has long bent legs perfect for sitting on the edge of a table or shelf, he has a large round tummy and a sweet face. He is filled partly with steel shot and also with plastic pellets, his pads and paws are made of light green cashmere, he has a blue stitched nose and shiny black German glass eyes. I love this little bear, I love his sweet face and his lovely Spring colours. I hope you like him too, he costs £70 plus postage.
Please note that as with all our bears, Ulysses is not a toy and is not suitable for children.