"Olympus"
---
"Olympus"
£94.50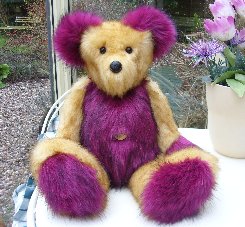 It is not often that one of our 21" plush bears makes it to the website, so we are delighted to introduce you to Olympus, isn't he great? He is made of light gold plush fur tipped in darker gold. This fur is very silky and soft. For his body, ears, pads and paws we have used longer deep fuchsia pink plush tipped in black. Whilst this may not be an obvious colour combination it really works and Olympus looks brilliant. He is filled with polyester and some plastic pellets but is not heavy by our standards, however he is soft and very cuddly. He has bells in his ears, a black button nose, shiny black German glass eyes and a pretty wooden, painted belly button.
If you like colour and big bears, Olympus is the boy for you! He costs £99 including UK postage.
Please note that as with all our bears, Olympus is not a toy and is not suitable for children.