"Rosetta"
---
"Rosetta"
£38.00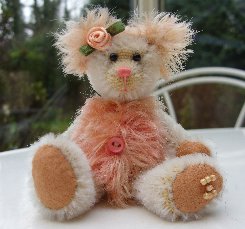 We are delighted to introduce you to Rosetta, a gorgeous 3 1/2" little girl bear made of velvety soft, short, cream Schulte mohair whilst her tummy and ears are made of hand dyed South African mohair in shades of peach. She has tangerine ultrasuede pads and paws, a peach stitched nose and shiny black English glass eyes. As we want to bring a little bit of cheer to these dark, wet and windy January days, we have given Rosetta a smile on her pretty face. She is steel shot filled for weight and has a peach ribbon flower over her right ear.
Rosetta is part of our new collection which is Spacecraft and missions both from NASA and the European Space Agency. The theme of Spacecraft seemed to follow on logically from our Heavenly collection as they travel the heavens and study the planets. Rosetta is a comet chasing craft which has been up in space for over 10 years. I hope you like her, she costs £38 plus postage.
Please note that as with all our bears, Rosetta is not a toy and is not suitable for children.