"Redruth"
---
"Redruth"
£50.50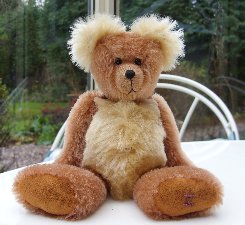 This adorable bear is Redruth. Whilst he is new to the website, we have had him for some months now and although he has been picked up and put down dozens of times at recent fairs, he still hasn't managed to find a new home and he is pretty sad and dejected. As you can see, he is a lovely bear made of soft, silky Schulte mohair in a lovely shade of teak/gold whilst his tummy and ears are made of longer, dense pale gold Schulte mohair which looks great with the darker gold. His pads and paws are made of toning teak cashmere, he has a black stitched nose and shiny black German glass eyes.
Redruth was one of our Cornish bears, hence his name. He is filled with polyester and glass beads so he has some weight.
Redruth originally cost £65 plus postage, but for a limited time, we are delighted to offer him to you for the discounted price of £55 including first class postage. I hope you like him, he really is sweet.
Please note that as with all our bears, Redruth is not a toy and is not suitable for children.