"Midwinter"
---
"Midwinter"
£40.00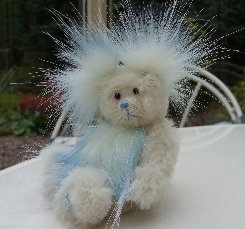 Say hello to Midwinter, a gorgeous 5 1/2" bear made of lovely dense, soft, white alpaca. His tummy and ears are made of long, silky incredibly soft plush fur, white backed and tipped in shades of turquoise. This fur is gorgeous with a pretty feathery finish which gives Midwinter great ears! I hope you like him, his colours are perfect for cold frosty winter mornings when the sky is clear blue and white. He has ivory cashmere pads and paws, a turquoise blue stitched nose and although you can't see it, he does have a pretty snowflake shaped belly button.
We have filled Midwinter with steel shot and steel balls for weight so he is nice and heavy for his size. I love this little bear, he is very sweet with a lovely face. He costs £40 plus postage.
Please note that as with all our bears, Midwinter is not a toy and is not suitable for children.