"Errol Braces"
---
"Errol Braces"
£39.00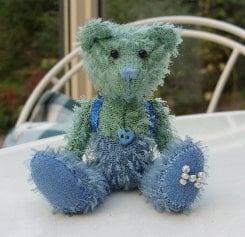 Errol Braces is our latest 4" Braces Boy. He is made of very sparse German mohair, his upper half is a bright turquoise shade whilst his trousers are light blue. He has toning ultrasuede pads and paws, deep blue ribbon braces, a pale blue stitched nose and shiny black English glass eyes.
With his steel shot filling, Errol Braces is noce and heavy despite his small size. He has a pretty blue heart shaped belly button and is loose jointed. As you can see, he is very cute, I do hope you like him. Errol Braces costs £39 plus postage.
Please note that as with all our bears, Errol Braces is not a toy and is not suitable for children.