"Merlot"
---
"Merlot"
£75.00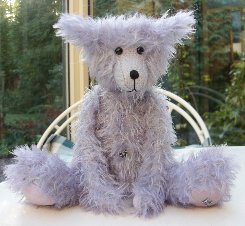 This adorable bear is Merlot, he is one of the latest bears in our Wine and Grape Varieties collection. He is made of gorgeous, quite sparse, straight German mohair in a lovely shade of pale lilac. We have given him toning ultrasuede pads and paws, he has a black stitched nose and shiny black German glass eyes.
Merlot is a 10" bear and the same style as his larger brother Pilgrim. He has long curved arms, short legs with round footpads, quite a long snout and his ears are flat on the top of his head. His arms and feet are weighted with steel shot and his body is softly filled with polyester. This combination makes him sit nicely with his paws between his feet, but he is still soft enough to cuddle! He is a very gentle bear and I do hope that you like him. Merlot costs £75 plus postage.
Please note that as with all our bears, Merlot is not a toy and is not suitable for children.