"Roddy Braces"
---
"Roddy Braces"
£38.00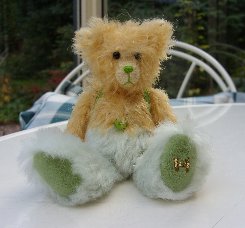 We are delighted to introduce you to Roddy Braces, one of our lovely 5 1/2" Braces Boys. He is made of lovely creamy gold tufted South African mohair combined for his trousers with pale green mohair, fluffy and soft. Roddy Braces has lime green ribbon braces, a lime green stitched nose and shiny black German glass eyes. His pads are light green cashmere and his paws are gold cashmere. He is steel shot and steel ball filled for weight, he has a lime green belly button and as you can see, he is colourful little chap with a lovely face. I do hope you like him.
Roddy Braces normally costs £45 plus postage but as we have had him for a while and as he is one of the few bears we have left from 2013, we are offering him for a limited time at a reduced price of only £38 plus postage, a saving of over 15%. Will you help him find a new home for the New Year?
Please note that as with all our bears, Roddy Braces is not a toy and is not suitable for children.