"Siesta"
---
"Siesta"
£45.00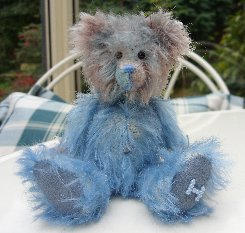 This lovely bear is Siesta, the latest bear in our Pyjama Collection, so called because with their body all in one colour and their head in a different colour, they look like they are wearing pyjamas!
Siesta is made of quite sparse, straight, white backed turquoise German mohair. His head and paws are made of hand dyed South African mohair in shades of grey and blue. His pads are blue ultrasuede and his paws are grey/beige ultrasuede, he has a blue stitched nose and shiny black German glass eyes.
We have filled Siesta with steel shot and steel balls for weight, he has a grey and white polka-dot belly button and as you can see, he is very cute with a nice shaggy head. I do hope that you like him, he costs £45 plus postage.
Please note that as with all our bears, Siesta is not a toy and is not suitable for children.