"Yves Braces"
---
"Yves Braces"
£38.00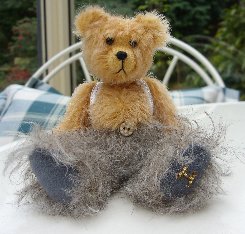 This is Yves Braces, another of our adorable 5 1/2" Braces Boys, made in a lovely combination of colours and textures. His upper body is made of lovely honey gold German mohair, soft and silky, whilst his trousers are made of gold backed, grey curly German mohair. This fur is very soft and quite thick, it looks great with the gold fur. His pads are grey cashmere and his paws are gold cashmere, he has steel shot and steel ball filling for weight, a black stitched nose and shiny black German glass eyes. His braces are white ribbon with a metallic gold edge and he has a sweet cream belly button with white polka-dots on.
I do hope you like him, he really is very sweet. Normally Yves Braces costs £45 plus postage, but as he is one of the last bears we have from 2013 and as we have had him for a while and he is really anxious to find a new home for the New Year, we are offering him for a limited time at the reduced price of just £38 plus postage, a saving of over 15%.
Please note that as with all our bears, Yves Braces is not a toy and is not suitable for children.