"Klang"
---
"Klang"
£38.00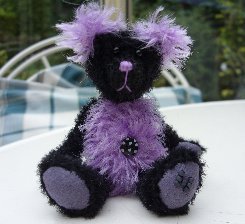 This friendly little 4" bear is Klang (great name don't you think?) He is part of our Wine and Grape Varieties Collection and is made of gorgeous, really deep black, short, South African mohair. You may think that black is black, but when you see different pieces of black fur next to each other you will see that some of them are blacker than others! This fur is really deep black with a short, quite sparse soft pile. For Klang's tummy and ears, we have used hand dyed South African mohair with a longer, more tufted pile in a great shade of lilac which contrasts brilliantly against the black. Klang's pads and paws are made of dark lilac ultrasuede, he has a lilac stitched nose, shiny black English glass eyes and and black and white polka-dot belly button.
Our new 4" style of bears all have sweet heart shaped faces and Klang is no different. He is steel shot filled for weight and loose jointed for added cuteness. I hope you like him, he costs £38 plus postage.
Please note that as with all our bears, Klang is not a toy and is not suitable for children.