"Anton Braces"
---
"Anton Braces"
£39.00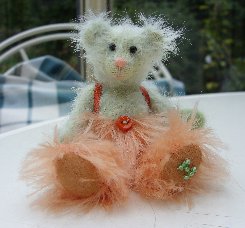 With the introduction of our new 4" sized bear, we have not had any 3 1/2" bears for a while so if Anton Braces, (who is 3 1/2" tall) is
for you, don't delay too long. He is rather sweet and made in nice cheerful colours, the palest lime green felted Hembold mohair for his top half and bright, hand dyed, long, straight tangerine coloured German mohair for his trousers. He has dark orange ribbon braces, a pale toning tangerine stitched and varnished nose and shiny black German glass eyes. His pads are light orange ultrasuede and his paws are lime green cashmere. He is filled with steel shot for weight, has a dark orange belly button and as you can see, he is cute!
Anton Braces costs £39 plus postage.
Please note that as with all our bears, Anton Braces is not a toy and is not suitable for children.