"Othello"
---
"Othello"
£65.00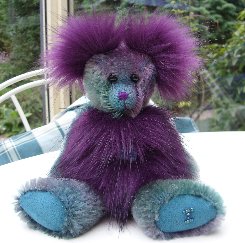 This is Othello, he is a rather gorgeous 8" bear made of very striking hand dyed German mohair in shades of lilac, purple, green and turquoise. We have combined this with deep purple plush fur for his tummy and ears. This fur is long, very soft and very dense and it looks fantastic with the shorter multi-shaded mohair. His pads and paws are dark turquoise green ultrasuede, he has a dark purple stitched nose, shiny black German glass eyes and a lovely hand made (not by me!) ceramic belly button.
Othello is part of our new Typefaces Collection. He is steel shot and glass bead filled and very heavy for his size. I do hope that you like him, he is a real "One off!" Othello costs £65 plus postage.
Please note that as with all our bears Othello is not a toy and is not suitable for children.