"Grignolino"
---
"Grignolino"
£45.00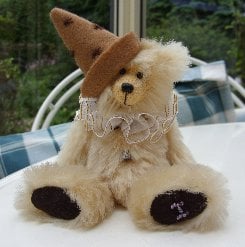 This gorgeous boy is Grignolino, a 5 1/2" Clown bear made of lovely butterscotch coloured Schulte mohair, soft and silky, quite long with a very dense pile. We have combined this with dark brown ultrasuede pads and paws, a light brown felt hat with dark brown stars stitched on it and a pretty white, cream and gold chiffon ribbon ruff.
Grignolino is filled with steel shot and glass beads so he has some weight. He is quite loosely jointed which gives him a lovely floppy feel. He has a dark brown stitched and varnished nose and shiny black German glass eyes. I really love this bear, I love his subtle colouring and his sweet face, I hope that you like him too. He costs £45 plus postage.
Please note that as with all our bears, Grignolino is not a toy and is not suitable for children.