"Clarendon"
---
"Clarendon"
£50.00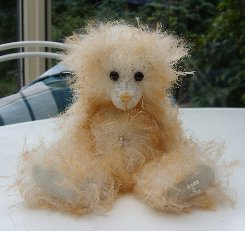 This gorgeous bear is Clarendon, one of the latest bears in our new Typefaces collection. He is 6" tall and is made of lovely cream backed, curly, tangerine tipped German mohair. He has cream cashmere pads and paws, a pale tangerine stitched nose and a pretty cream and white polka-dot belly button.
In style, Clarendon has long straight arms, short legs and tapered footpads. His head is set quite low on his body which gives him quite a sad look. He has black shiny German glass eyes, he is steel shot, glass bead and steel ball filled for weight and quite loosely jointed which adds to his charm. I hope you like him, he's very cuddly and cute! Clarendon costs £50 plus postage.
Please note that as with all our bears, Clarendon is not a toy and is not suitable for children.