"Albertina"
---
"Albertina"
£39.00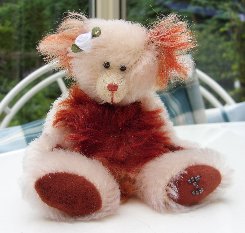 This lovely little girl is Albertina, she is part of our new Typefaces Collection and is 5 1/2" tall. As you can see, she is made of pretty pale peach mohair whilst her tummy and ears are made of much longer mohair in shades of deep terracotta and brown. This fur is quite thick with a very pronounced swirl in the pile. The colour is lovely, really rich and deep. We have given Albertina dark terracotta coloured cashmere pads and paws, a toning stitched nose and shiny black German glass eyes.
With her steel shot and glass bead filling, Albertina has some weight but she is not as heavy as some of our bears. Her joints are quite loose which gives her a nice floppy feel and she has a white ribbon flower over her right ear. I really love this little bear, she is made in gorgeous colours, I hope you like her too. Albertina costs £39 plus postage.
Please note that as with all our bears, Albertina is not a toy and is not suitable for children.