"Bembo"
---
"Bembo"
£38.00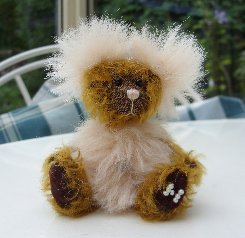 This is Bembo, the first of our new style of 4" bears to be added to the website. These lovely new bears have a slightly larger head than our 3 1/2" bears with a very sweet face. They are loose jointed and heavily filled with steel shot giving that lovely heavy floppy feel.
Bembo is made of dark brown backed, deep coppery gold South African mohair, quite short and tufted in texture. For his tummy and ears we have used much longer pale peach alpaca which contrasts beautifully with the gold fur and gives Bembo a lovely fluffy tummy and great ears. His pads and paws are made of deep mahogony coloured Sassy fabric, he has a pale peach stitched nose and shiny black English glass eyes.
Bembo is named as part of our new Typefaces Collection. He is a really sweet little bear, I do hope that you like him, he costs £38 plus postage.
Please note that as with all our bears, Bembo is not a toy and is not suitable for children.