"Clairette"
---
"Clairette"
£36.00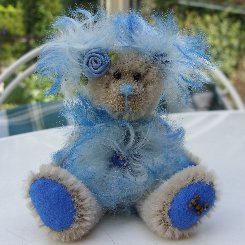 This adorable bundle of fluff is Clairette, a sweet 3 1/2" little girl bear made of short, velvety soft mushroom grey Schulte mohair with her tummy and ears made of contrasting long, curly, pale blue backed darker blue tipped mohair. This fur is great, it swirls and curls, giving Clairette great ears and a very striking appearance. The vivid blue theme has been carried on with the lovely blue ultrasuede pads and paws, a blue stitched and varnished nose and blue ribbon flower over her right ear.
Clairette is part of our new Wine and Grape Varieties Collection. She is steel shot filled for weight and loosely jointed, a great combination. I do hope you like her, I think she's gorgeous! Clairette costs just £36 plus postage.
Please note that as with all our bears, Clairette is not a toy and is not suitable for children.