"Titania"
---
"Titania"
£36.00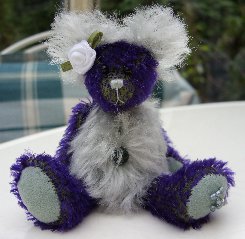 We are delighted to introduce you to Titania, one of the latest bears in our Planets Collection. She is 3 1/2" tall and is made of lovely two-tone German mohair, dark green backed with a deep purple pile. This fur is short and quite sparse so you can see the green backing colour through the purple. With this we have used longer, wavy, pale grey German mohair for her tummy and ears, the length of this fur gives Titania lovely bushy ears! Her pads and paws are pale grey ultrasuede, she has a grey stitched nose and shiny black English glass eyes.
As a little girl bear, Titania has a ribbon flower over her right ear and this is white. She is steel shot filled for weight and so is nice and heavy for her diminutive size. She is a very sweet little bear, I hope you like her, Titania costs £36 plus postage.
Please note that as with all our bears, Titania is not a toy and is not suitable for children.