"Rioja"
---
"Rioja"
£39.00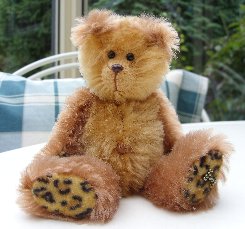 This beautiful bear is called Rioja, he is one of the latest bears in our new Wine and Grape Varieties Collection. He is made of two shades of the same Schulte mohair, one a lighter coppery shade of gold and the other a deeper bronze shade, the two look great together. His head and body are in the lighter fur and his arms, legs and ears in the darker colour. In addition to this he has wonderful leopard print cashmere pads and paws which tone well with the fur colours and make a real statement.
Rioja is steel shot filled for weight, he has a dark brown stitched and varnished nose, shiny black German glass eyes and a tan belly button. Isn't he great? I hope you like him too, he costs £39 plus postage.
Please note that as with all our bears, Rioja is not a toy and is not suitable for children.