"Hayle"
---
"Hayle"
£39.00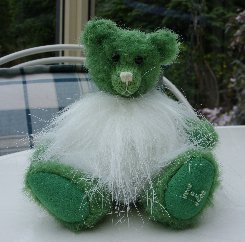 Let us introduce you to Hayle, a gorgeous 5 1/2" bear, part of our semi-plush range. He is made of bright green German mohair, quite matted and tufted in texture, whilst his tummy is made of silky soft white plush, long and feathery. This fur is gorgeous and the length of the pile contrasts with the short green fur. His pads and paws are green ultrasuede, he has a white stitched nose and shiny black German glass eyes.
Hayle is part of our new Cornwall collection. He is steel shot and steel ball filled and so is nice and heavy for his size. I hope you like him, he is very sweet. Hayle costs £39 plus postage.
Please note that as with all our bears, Hayle is not a toy and is not suitable for children.