"Moon"
---
"Moon"
£39.00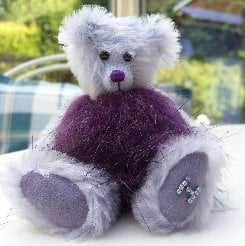 This is Moon, one of the first bears in our new Planets Collection. He is also one of the first bears in our new semi-plush range. As you know, earlier this year we started to make 21" bears in lovely plush, enabling us to keep the price of big bears to an affordable price. The plush we use is too thick to use for small bears but it is perfect for tummies and ears. We have started a new range of 5 1/2" and 8" bears incorporating this and Moon is the first of the 5 1/2".
He is made of lovely silky, soft powder blue Schulte mohair and we have combined this with fantastic deep purple plush for his tummy. The plush fur is very soft and very thick so it gives Moon a lovely cuddly feel. He is steel shot and steel ball filled for weight, has a deep purple stitched nose and shiny black German glass eyes. His pads and paws are dark lilac ultrasuede and burried under his fluffy tummy is a purple belly button. He is rather splendid, I hope you like him, he costs £39 plus postage.
Please note that as with all our bears, Moon is not a toy and is not suitable for children.