"Kumquat"
---
"Kumquat"
£39.00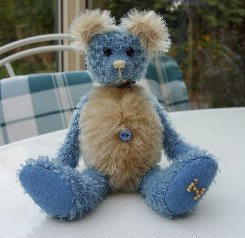 This unusual bear is Kumquat, another bear in our Fruits Collection. He is just 5 1/2" tall and is made of very, very sparse Hembold mohair in a lovely shade of light blue. The short, sparse style of this fur contrasts brilliantly with the much longer, dense, luxurious cream Schulte mohair we have used for his tummy and ears. This fur is very soft and silky, it's length and thickness give Kumquat his really round tummy and I think he looks great. He has toning blue ultrasuede pads and paws, a cream stitched nose and shiny black German glass eyes.
We have filled Kumquat with steel shot and steel balls to make him nice and heavy, I do hope that you like him, he costs £39 plus postage.
Please note that as with all our bears, Kumquat is not a toy and is not suitable for children.