"Huckleberry"
---
"Huckleberry"
£39.00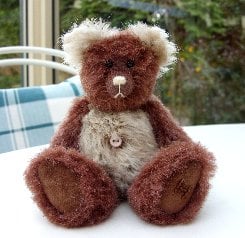 We are delighted to introduce you to Huckleberry, one of the latest 5 1/2" bears in our Fruits Collection. He is made of really soft, very dense, russet coloured German alpaca, a gorgeous shade. His tummy and ears are made of very dense, soft silvery blond German mohair. This fur is a similar length to the alpaca, it has a silky texture and complements the alpaca perfectly.
Huckleberry has toning russet coloured cashmere pads and paws, a cream stitched nose and shiny black German glass eyes. He is steel shot and steel ball filled for weight and so is nice and heavy for his size. I really like this little bear, I love his colours and he has such a cute face. He costs £39 plus postage.
Please note that as with all our bears, Huckleberry is not a toy and is not suitable for children.