"Wineberry"
---
"Wineberry"
£36.00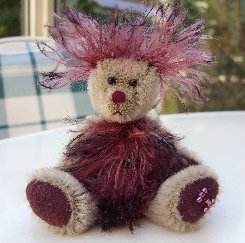 At 3 1/2" tall, Wineberry may not be very big but he has lots of personality, added to by his fantastic ears! He is made of very short, velvety soft German mohair in pale grey. His tummy and ears on the other hand are made of very long, quite stringy deep plum coloured German mohair tipped in black. His pads and paws are deep plum coloured ultrasuede, he has a deep plum coloured stitched nose and shiny black English glass eyes.
Wineberry is part of our Fruits Collection. He is filled with steel shot and so is nice and heavy for his size. He has a very, very sweet face and I do hope that you like him. He costs £36 plus postage.
Please note that as with all our bears, Wineberry is not a toy and is not suitable for children.