"Nectarine"
---
"Nectarine"
£50.00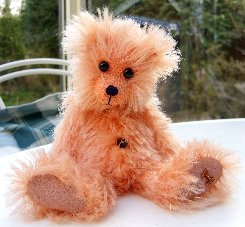 If you want to brighten your day, take a look at Nectarine! Isn't he gorgeous? He is 6" tall and is part of our new Fruits collection. He is made of the most gorgeous hand dyed peachy orange German mohair, the pile is very straight and quite long. We have combined this with pale peach ultrasuede for his pads and paws and given him a black stitched nose and shiny black German glass eyes.
In style Nectarine has long slim arms, quite short legs with tapered footpads, a wide face and quite small ears. His head is set low on his body which makes him look quite sad. He is heavily weighted with steel shot and steel balls and is loose jointed to give him added charm. I really love this little bear, he is very cute and such a fantastic colour! Nectarine costs £50 plus postage.
Please note that as with all our bears, Nectarine is not a toy and is not suitable for children.