"Damper"
---
"Damper"
£95.00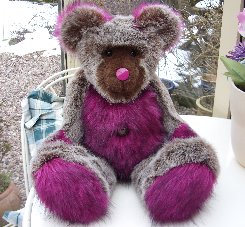 Meet Damper, our latest 21" Plush bear, made in the most gorgeous soft, incredibly dense, silky plush. As we announced in January, we have introduced these occasional large plush bears to make it possible for those of you who still have room to collect big bears, to do so without having to re-mortgage! Damper costs £95, when you add the standard postage charge of £4.50, it brings him to £99.50. Our aim was to create a big bear that we could charge less than £100 for.
He is made of lovely deep chocolate brown fur tipped in silvery blond. As you can see, where we have trimmed back his nose, the brown fur is a really nice shade. We have combined this with vibrant deep pink fur very slightly tipped in black, the two look great together.
Damper, named after a type of bread, is softly filled with plastic pellets and polyester. He has shiny black German glass eyes and a lovely toning pink button for his nose which I just happened to have! He has bells in his ears which jangle when he moves, I hope you like him, he is really cuddly.
Please note that as with all our bears, Damper is not a toy and is not suitable for children.