"Kew Pippin"
---
"Kew Pippin"
£38.00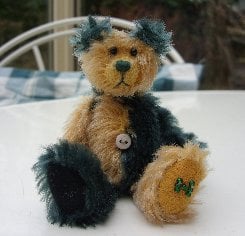 This little cutey is Kew Pippin, a 3 1/2" Harlequin bear made in two lovely shades of Schulte silky soft mohair, dark bottle green and bright gold. They go well together and as you can see, Kew Pippin is a bright vibrant little bear.
His pads and paws are made of black and gold ultrasuede, he has a dark green stitched nose and shiny black English glass eyes. We have filled Kew Pippin with steel shot so he is nice and heavy for his size. He has a beige belly button and a very sweet upright posture with a nice face. I do hope that you like him, he is named as part of our Apple Varieties collection and costs £38 plus postage.
Please note that as with all our bears, Kew Pippin is not a toy and is not suitable for children.