"Stone Pippin"
---
"Stone Pippin"
£40.00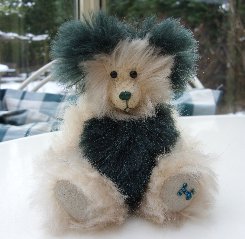 This fluffy and adorable bear is Stone Pippin, named as part of our Apple Varieties collection. He is made of long, straight cream coloured Schulte mohair whilst his tummy and ears are made of very dense, soft, long deep green alpaca. The contrast in colours works well whilst the length of both colours of fur make Stone Pippin a really fluffy, slightly bonkers little bear, but very sweet with the wonderful ears that so many of you love.
His pads and paws are made of stone coloured ultrasuede, which is why I thought this name was so suitable for him. He is steel shot and steel ball filled so nice and heavy, has a dark green stitched nose and shiny black German glass eyes. I do hope that you like him, he costs £40 plus postage.
Please note that as with all our bears, Stone Pippin is not a toy and is not suitable for children.