"Diggory Braces"
---
"Diggory Braces"
£45.00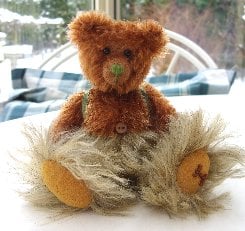 Say hello to Diggory Braces, isn't he gorgeous? He is 5 1/2" tall and is made of deep fox red tufted German mohair, dense and with a lovely sheen to the pile. For contrast, his trousers are made of a very different sort of mohair, gold backed the mohair is very long and wavy in a deep blonde gold shade. The length of this fur gives Diggory Braces great trousers, fluffy and wild. His pads are gold cashmere and his paws are chestnut brown cashmere. He has olive green ribbon braces and we have used this colour for his stitched nose.
Diggory Braces is filled with steel shot and steel balls for weight so he is nice and heavy for his size. He has a very appealing face with shiny black German glass eyes and a lovely expression. I do hope that you like him, he costs £45 plus postage.
Please note that as with all our bears, Diggory Braces is not a toy and is not suitable for children.