"Tobin Braces"
---
"Tobin Braces"
£39.00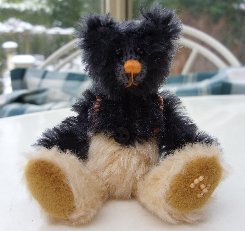 This adorable 3 1/2" bear is Tobin Braces, the latest of our ever popular Braces Boys. He is made of dark grey backed, black soft, silky Schulte mohair whilst his trousers are made of pale peach German mohair with a synthetic silk mix which gives the fur a lovely sheen. His braces are pale orange and this shade has been picked out for his stitched nose. Tobin Braces has pale gold cashmere pads and black cashmere paws. He is steel shot filled for weight and has a black belly button and shiny black English glass eyes.
As you can see from his photo, Tobin Braces is an adorable little bear, I do hope that you like him, he costs £39 plus postage.
Please note that as with all our bears, Tobin Braces is not a toy and is not suitable for children.