"Stotty"
---
"Stotty"
£77.50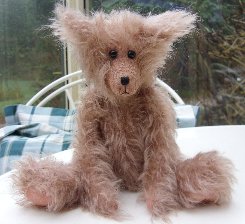 This sweet bear is called Stotty, from our Bread and Biscuits collection. He is 10" tall and is made of lovely soft Schulte mohair, in a dusky beige gold colour. The fur is quite whispy and has a slight wave in the pile. Stotty has pale terracotta coloured ultrasuede pads and paws, a black stitched nose and shiny black German glass eyes.
This is a very popular style of bear that we have been making almost from when we first started. He has long slim arms, quite short legs with round footpads and quite a long nose. His arms and legs have some steel in and his tummy is filled with polyester to make him soft and cuddly. This weight distribution makes him sit nicely with his paws between his feet. I hope you like him, he is a lovely bear in a very nice, quite unusual colour. He costs £77.50 plus postage.
Please note that as with all our bears, Stotty is not a toy and is not suitable for children.