"Muffin"
---
"Muffin"
£59.50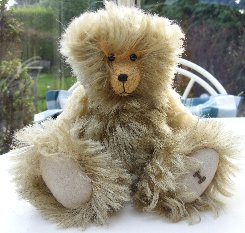 This bundle of fluff is Muffin, named as part of our Bread and Biscuits collection. He is 8" tall and is made of dark gold backed old gold German mohair which has quite a long, wavy pile and a nice silky feel. His arms and ears are made of paler gold mohair with a slightly shorter pile length but the colour tones beautifully with the backing colour of the longer fur. His pads are pale gold ultrasuede and his paws are gold cashmere, he has a black stitched nose and shiny black German glass eyes.
We have filled Muffin with glass beads and heavy plastic pellets so he has some weight but is not as heavy as some of our bears. I do hope that you like him, he is not the most sensible bear in the world but I think that just adds to his charm! He costs £59.50 plus postage.
Please note that as with all our bears, Muffin is not a toy and is not suitable for children.