"Comma"
---
"Comma"
£35.00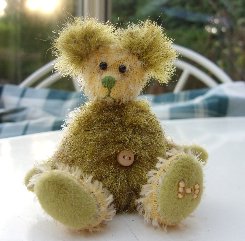 This little bear is also part of our Butterfly collection, he is called Comma. He is made of very sparse cream German mohair whilst his tummy and ears are made of really dense, soft Schulte alpaca in a really lovely shade of sage green. We have given Comma pale green cashmere pads and paws, a green stitched nose and shiny black English glass eyes.
With his steel shot filling Comma is quite heavy for his size, which is 3 1/2" tall. He is a very slender looking bear as the cream fur is so sparse and short, with a round fluffy tummy. I do hope you like him, he is very cute. Comma costs £35 plus postage.
Please note that as with all our bears, Comma is not a toy and is not suitable for children.