"Berry Braces"
---
"Berry Braces"
£45.00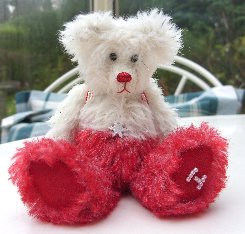 This is Berry Braces, one of our latest Christmas Braces Boys. He is 5 1/2" tall and as you can see, is rather splendid. Berry Braces is made of white South African mohair which has a silver metallic thread shot through it and so it twinkles in the light. The fur is quite tufted in texture and quite thick which matches the fur we have used for his trousers well, as that is also thick and tufted. This fur is bright berry red South African mohair with a paler fleck in the colour, we have given Berry Braces red ultrasuede pads and ivory ultrasuede paws. With his steel shot and steel ball filling he is nice and heavy for his size. He has glistening ribbon braces edged in red thread and these catch the light too. His nose is stitched in metallic red thread and he has shiny black German glass eyes and a very sweet face.
In a local haberdashery shop we found some pretty little snowflake shaped buttons which we have used for his belly button. I do hope that you like him, he is very cute. Berry Braces costs £45 plus postage.
Please note that as with all our bears, Berry Braces is not a toy and is not suitable for children.