"Icicle"
---
"Icicle"
£90.50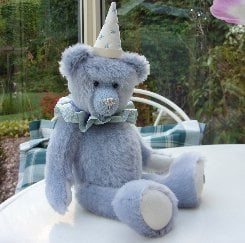 As well as our small Christmas bears we like to offer something to those of you with a little more space for bears. This is Icicle, a gorgeous 12" Christmas Clown made of pale powder blue German mohair, this is luxurious Schulte mohair, soft and silky. His pads, paws and hat are made of ivory ultrasuede, he has a metallic silver thread stitched nose and a lovely ruff made of glistening lilac and metallic silver ribbon.
We have filled Icicle with glass beads so he is quite heavy and solid. He has shiny black German glass eyes and on his hat are stitched small stars in pale blue metallic thread.
I really love this bear, he has a gentle expression and is made in such gorgeous wintery colours. I do hope you like him too, he costs £90.50 plus postage.
Please note that as with all our bears, Icicle is not a toy and is not suitable for children.