"Port"
---
"Port"
£141.50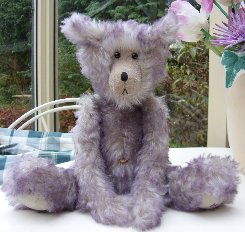 This adorable bear is for those of you who have a bit more room as he is around 14" tall. Port is a gorgeous bear made of really striking German mohair, beige backed with a pale silvery grey fur tipped in purple. The fur is really soft and silky with a slight curl in the pile. Sometimes the fur manufacturers will produce a sample piece which may or may not ever go into production. When we come across such pieces we are often tempted to buy them as they really do make "one off" bears with other makers unlikely to find the same piece of fur. Port is made of just such a piece of fur and he is lovely. We have given him pale gold ultrasuede pads and paws, a black stitched nose and shiny black German glass eyes. He is filled with glass beads for weight and rubber pellets for cuddliness, he also has a lovely heart shaped wooden belly button.
This style of bear has lovely slim arms, short legs with round footpads and quite a long nose. He is weighted in such a way that he sits nicely with his paws between his feet. I do hope that you like him, he is rather gorgeous. Port costs £141.50 plus postage.
Please note that as with all our bears, Port is not a toy and is not suitable for children.