"Cracknel"
---
"Cracknel"
£60.50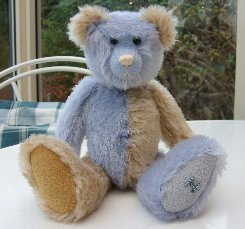 This adorable 8" bear is Cracknel, named as part of our latest collection, Bread and Biscuits. He is in the Harlequin style and is made of totally delicious, silky soft Schulte mohair in powder blue and traditional gold. The fur is very soft with a sheen to the pile. His pads and paws are made of toning gold and pale grey ultrasuede, he has a pale gold stitched nose and shiny black German glass eyes.
To give him a nice weight, we have filled Cracknel with glass beads. As you can see from his photo, he is a really lovely looking bear with a very sweet expression. I do hope that you like him, he costs £60.50 plus postage.
PLease note that as with all our bears, Cracknel is not a toy and is not suitable for children.